5 Confidence Boosters I Learned at the Summit
I was planning to write a summary of everything I learned at the Summit but decided that 35 single-spaced pages of wisdom notes might be a bit too much. So I've narrowed it down to my top five favorite confidence-building tips from the wildly successful leaders we got to hear at The Southern C Summit last week. After all, the essential ingredient for success is confidence!
"Yes, and"
Elizabeth Mayhew's illustrious career started with a failed typing test. Hard to believe but yes, typing speed was a filter back in the day. I had the same thing happen when applying for a position at the international department at a big bank in Dallas. Only I failed it three times.
Mayhew credits Tina Fey's writing in Bossypants, for teaching her the powerful improv theatre technique, "yes, and".
Comedians (and other crazy people) practice "yes, and" to build critical thinking and audience engagement. It's so effective I teach it in communication workshops. It's affirming what someone else has said and adding to it. It's a skill that takes practice but is totally worth it.
Saying "yes, and" literally forces you to forget your anxiety (or fear of judgment) and focus on what the other person is saying and then adding to that.
Example: You say, "Let's get together."
I say, "Yes, and let's put together a British bake-off. We can do this at Danielle's house."
Or….
You say, "I need this report by this afternoon."
I say, "Yes and I'll put together a draft PowerPoint to share the findings with the boss."
Mayhew used the "yes, and" practice to build her skill set, expand her creative prowess and add value in unexpected ways.
Ask for what you want.
Holly Phillips of The English Room stressed the importance of asking. "It never hurts to ask. Sometimes people say 'yes'."
For sure if you don't ask, you don't get what you want or need. No one is a mind reader and no one cares about your business the way you do. If you get used to hearing "no" – it stops bothering you so much.
Keep moving forward.
Hampden founder and owner, Stacy Smallwood burst my bubble. She insisted, "There is no magic pill, no magic influencer….there is no magic sales booster, not even getting coverage in Harper's Bazaar." And Stacy was featured in that magazine not once, but twice.
It's the small things done over time that build your business. In Stacy's words it's important to "take yourself out of the Fear Zone. If you don't do this, who is going to do it?"
Show up in person.
Jessica Mischner, of Ballyhoo and Co. and former Garden & Gun editor, stressed the importance of building in-person relationships. Her suggestion is "Go to the office of the media outlet where your business fits in."
Email is important, but not always sufficient. Do what you can to see people face to face. Get in front of people.
(Bonus: as an email subject line she recommended "Hey Jessica So & So sent me". That immediately communicates who referred you to this person.)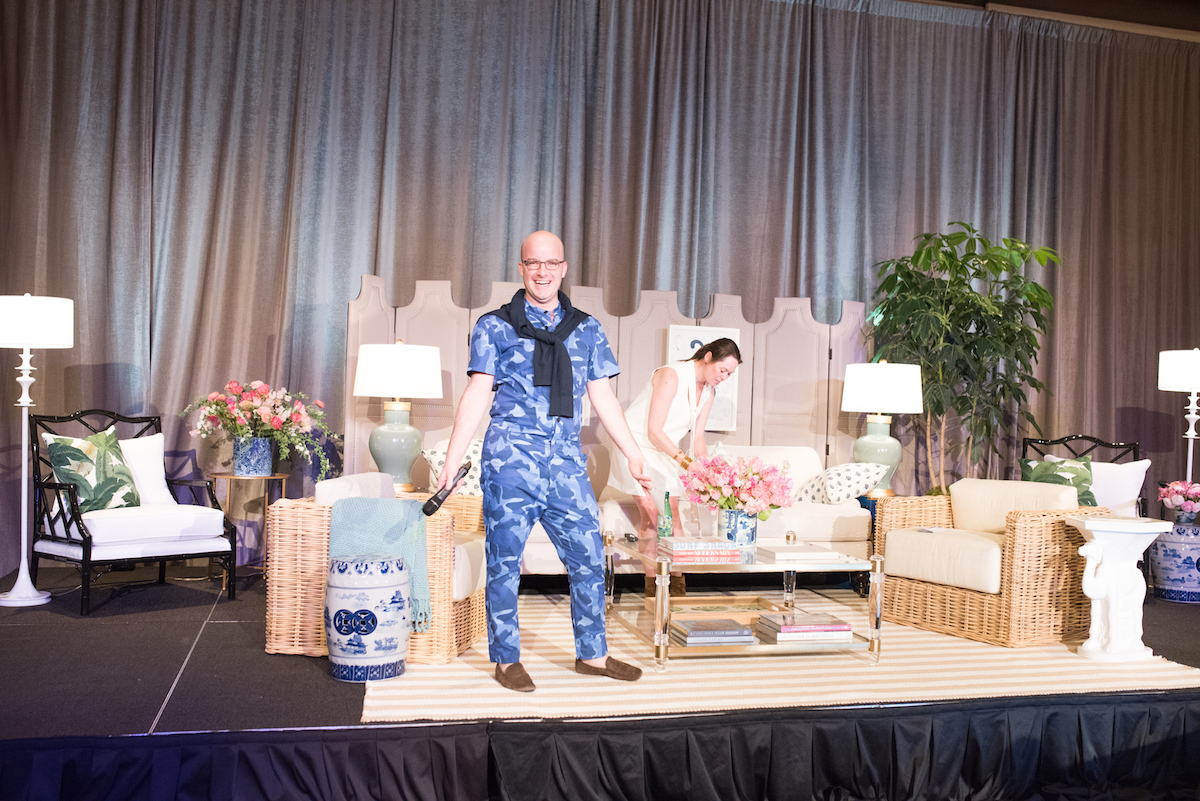 Wear a blue camo romper. #romphim
You might call this tip, "Don't be afraid to look ridiculous." Even Stacy Smallwood reiterated the point assuring us, "Shame has left my body." Brian Hart Hoffman (of Hoffman Media) pulled off this crazy look with so much pizzazz and made everyone smile (sometimes only on the inside). I'm certain he'll share his fashion source for this "never-fail confidence-boosting" wardrobe essential.
Thing is, confidence comes from taking action not reading about it. Try one of these tips and see what happens. You might be sharing it yourself at a future TSC Summit!
Related Posts